Firefox Vector Logo Download - AI / SVG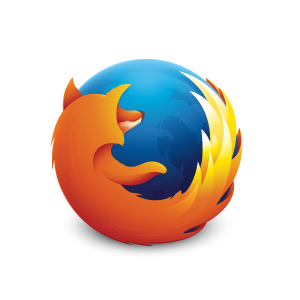 Free to download Firefox logo vector in AI / SVG vector format. Browse to see more Firefox related vector logos. Download Firefox logo vector in AI / SVG format, and open with Adobe Illustrator or Adobe PhotoShop or CorelDRAW.
In August 2013, Mozilla officially launched Firefox 23 for Windows, Mac, Linux, Android, and more notably, the new logo, a (slightly) less textured and glossy icon for its favored web browser.
The first step in the rebuild was to go in and strip out all the detail that was using blend mode layering such as multiply, screen and overlay – mostly found in the tail area. As stated, a key goal of the redesign was to make it work flawlessly in SVG as well as open up the possibility to rebuild all the internal structure using SVG and CSS gradients. Having reduced the logo down to its shape-tweaked forms and softer gradients, designers continued to remove any detail designers thought wasn't critical to the overall image. This tied into another goal of having the image hold up with greater clarity at smaller sizes.
Once designers had removed a fair amount of detail in the logo, it was time to look at introducing enhanced detail where it would be needed when scaled to larger sizes. Stephen Horlander recreated all the continents on the globe with high resolution displays in mind and the high gloss has been removed to create a softer, deeper color globe. Combining these deeper blues with now lighter oranges in softer detailed fur, The new design achieved that greater contrast that would create better separation of the elements at all sizes.
A final touch that you may notice in the new logo is the arm of the fox now extends from a shoulder instead of layering behind his chest

Uploaded on September 4, 2013
Last updated on September 4, 2013
Company:
Mozilla Corporation
Font author:
Erik Spiekermann
Select available file format to download Firefox vector logo or Firefox vector file.
Mozilla Corporation
The Mozilla Corporation (abbreviated MoCo) is a wholly owned subsidiary of the Mozilla Foundation that coordinates and integrates the development of Internet-related applications such as the Mozilla Firefox and SeaMonkey Navigator web browsers and the Mozilla Thunderbird email client by a growing global community of open-source developers, only some of whom are employed by the corporation itself. The corporation also distributes and promotes these products. Unlike the non-profit Mozilla Foundation, the Mozilla Corporation is a taxable entity. The Mozilla Corporation reinvests some or all of its profits back into the Mozilla projects. The Mozilla Corporation's stated aim is to work towards the Mozilla Foundation's public benefit to "promote choice and innovation on the Internet."