WIKIPEDIA Vector Logo Download - AI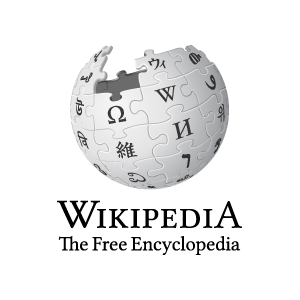 Free to download WIKIPEDIA logo vector in AI vector format. Browse to see more WIKIPEDIA related vector logos. Download WIKIPEDIA logo vector in AI format, and open with Adobe Illustrator or Adobe PhotoShop or CorelDRAW.
A new Wikipedia logo was implemented in May 2010. It features the new 3D rendering of the puzzle globe, with corrected characters (and the Klingon character replaced by a Geʿez character). The wordmark has been modified from the Hoefler Text font to the open-source Linux Libertine font created by the Libertine Open Fonts Project, which aims to create free and open alternatives to commercial fonts like Times Roman and the subtitle is no longer italicized. The font was developed with the free font editor FontForge.
The logo of Wikipedia, an Internet-based multilingual encyclopedia, is an unfinished globe constructed from jigsaw pieces – some pieces are still missing at the top – inscribed with glyphs from many different writing systems. As displayed on the web pages of the English-language version of Wikipedia, there is a wordmark WikipediA under the globe, and below that the text "The Free Encyclopedia".
Each piece bears a glyph (letter or character), symbolizing the multilingualism of Wikipedia. They include the Cyrillic letter И ("I"), the Greek letter Ω (Omega), the Korean syllabic block 위 (wi), the Chinese character 維 (Wéi), and at the bottom the Kannada kagunita ವಿ (Vi) and the Hebrew (and also Yiddish) letter ו (Vav). As for the Latin letter "W", these glyphs are mostly the first glyph of the name "Wikipedia" as rendered in various languages (for example, 維基大典 in Classical Chinese).

Uploaded on January 22, 2011
Last updated on January 22, 2011
Font author:
Libertine Open Fonts Project & FontForge
Select available file format to download WIKIPEDIA vector logo or WIKIPEDIA vector file.

Download653k
Wikipedia
Wikipedia is a free, web-based, collaborative, multilingual encyclopedia project supported by the non-profit Wikimedia Foundation. Its 17 million articles (over 3.5 million in English) have been written collaboratively by volunteers around the world, and almost all of its articles can be edited by anyone with access to the site. Wikipedia was launched in 2001 by Jimmy Wales and Larry Sanger and has become the largest and most popular general reference work on the Internet.