EA SPORTS Vector Logo Download - AI / EPS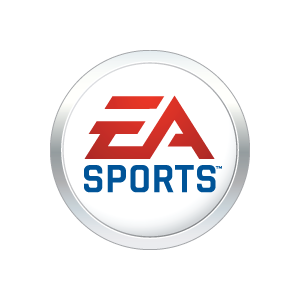 Free to download EA SPORTS logo vector in AI / EPS vector format. Browse to see more EA SPORTS related vector logos. Download EA SPORTS logo vector in AI / EPS format, and open with Adobe Illustrator or Adobe PhotoShop or CorelDRAW.
The current EA logo was derived from the logo used by sub-brand EA Sports. It was first used, in a different form, in 1988, when Electronic Arts introduced the "EASN" brand (later changed to "EA Sports" due to legal difficulties with ESPN). The logo was modified and adopted company-wide around 1999.
The in-game logo introduction has changed several times since the inception of Electronic Arts. In late-1990s to 2001, Originally an explosion sound effect accompanying the letters for "Electronic Arts" flying into formation, followed by an electronic voice. The sound effects have changed in certain games (sounds of the letters whipping past, for example). In 1999 to 2003, An outlined circle flips and forms the modern EA Games logo. Accompanied by a synthesized ping sound. In 2002 to 2004, EA Games logo appearing on screen, accompanied by a very loud voice saying "EA Games" followed by a whisper saying "challenge everything". In 2005, Silver EA logo appearing then fading away. *2006 to present: The logo is different with every game, taking on certain visual aspects of the game it is presented with. However the EA letters always remain the same and the logo always remains a circle.

Uploaded on July 16, 2010
Last updated on September 2, 2010
Company:
EA | Electronic Arts, Inc.
Select available file format to download EA SPORTS vector logo or EA SPORTS vector file.
EA | Electronic Arts, Inc.
Electronic Arts, Inc. (EA) is an international developer, marketer, publisher and distributor of video games. Founded and incorporated on May 28, 1982 by Trip Hawkins, the company was a pioneer of the early home computer games industry and was notable for promoting the designers and programmers responsible for its games. Originally, EA was a home computing game publisher. In the late 1980s, the company began developing games in-house and supported consoles by the early 1990s. EA later grew via acquisition of several successful developers. By the early 2000s, EA had become one of the world's largest third-party publishers. Currently, EA's most successful products are sports games published under its EA Sports label, games based on popular movie licenses such as Harry Potter and games from long-running franchises like Need for Speed, Medal of Honor, The Sims, Battlefield and the later games in the Burnout and Command & Conquer series. They are also the distributors of the Rock Band series.